The Challenges, Opportunities, and Tools to be Successful
The co-responder model pairs law enforcement officers with mental health clinicians to serve their communities better. Several different methods are used in communities depending on their needs and resources. This article will show you how to become a more data-driven co-responder program.
Programs may consist of teams of mental health professionals and law enforcement that ride together to answer all mental health or substance abuse calls. Programs can also operate where officers respond first to all calls and call out mental health workers when it involves a mental health crisis or substance abuse. Additionally, some programs identify appropriate cases, have mental health experts respond to the crisis independently, and call in support as needed.
Regardless, the most effective programs are the ones that make the most of their resources, ensuring that the right individuals are directed to the right programs at the right time. This is where the importance of collecting and analyzing program data comes in.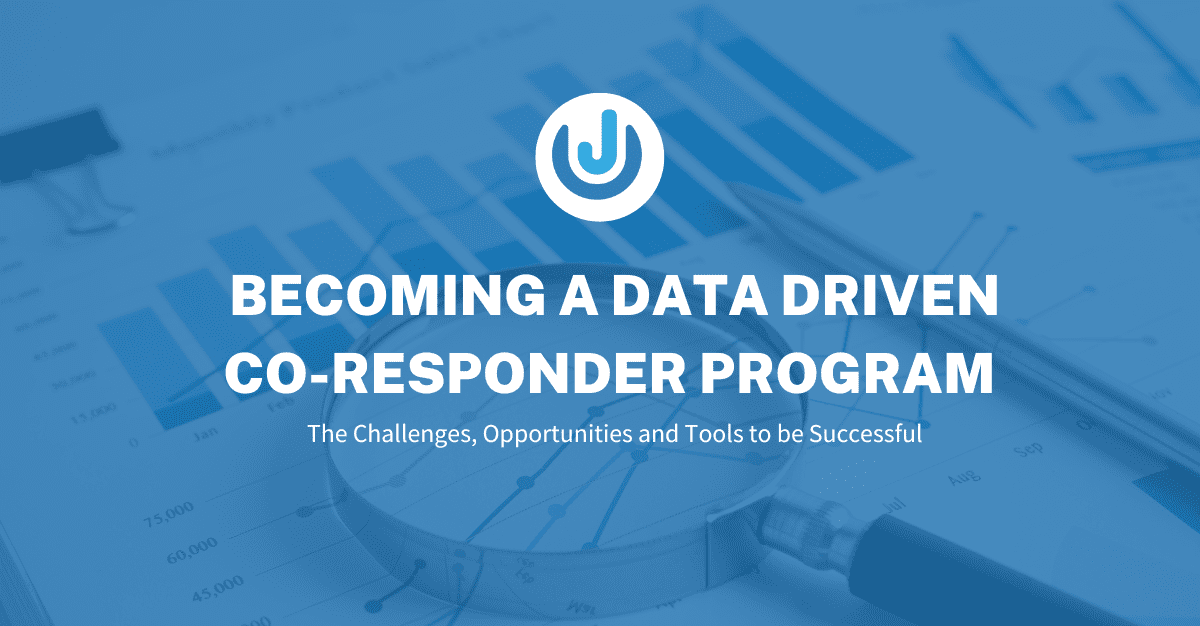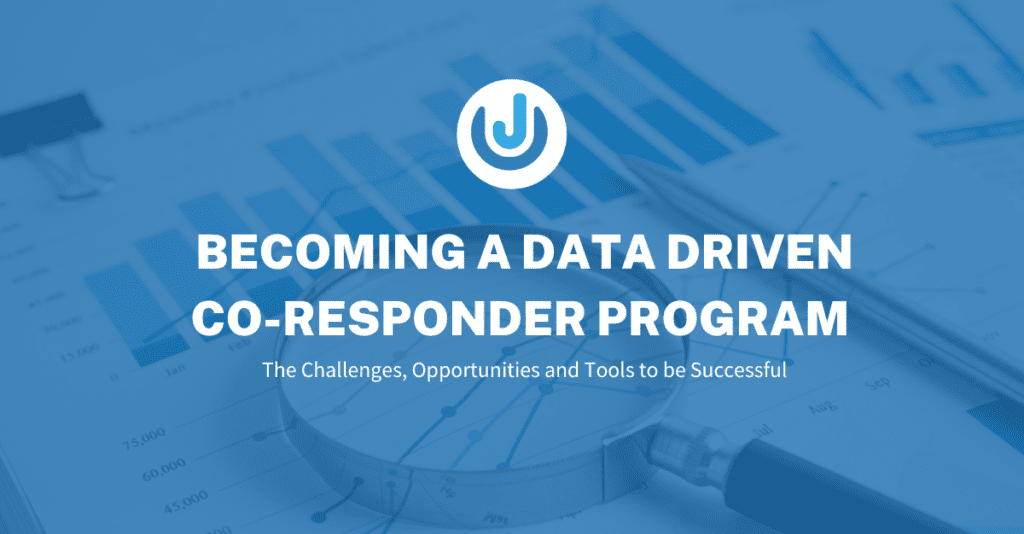 Common Challenges of a Data-Driven Co-Responder Program
While every Co-Responder program is different, and they all face challenges unique to the population they serve and their location, some challenges are common to all co-responder programs.
Challenge #1 Allocation of Limited Resources
It is no secret that mental health and substance abuse resources are severely limited. Even the most populous and wealthy areas do not have all of the programs or space required to serve all individuals in need, which is exacerbated in more rural or impoverished areas. The same is true for criminal justice programs across the county. This requires programs to think outside the box and develop creative strategies to manage community needs.
The National Alliance on Mental Illness (NAMI) keeps statistics on mental health diagnoses and treatment and found that
21% of U.S. adults experienced mental illness in 2020 (52.9 million people). 1 in 5 adults.
5.6% of U.S. adults experienced serious mental illness in 2020 (14.2 million people). 1 in 20 adults.
16.5% of U.S. youth aged 6-17 experienced a mental health disorder in 2016 (7.7 million people)
6.7% of U.S. adults experienced a co-occurring substance use disorder and mental illness in 2020
Despite these large percentages, only 46% of individuals with mental illness received care in 2020. The average delay between when symptoms begin and when treatment is started is an astounding 11 years, and 155 million, about half of the country, live in a designated Mental Health Professional Shortage Area. These limitations have longstanding detrimental effects on the individual, their family, the surrounding community, and the country as a whole. Approximately 37% of individuals in the state and federal prison system have a mental health condition.
These facts challenge programs trying to manage mental health and substance abuse in their communities with the available resources. Undoubtedly, this seems daunting, but when communities work together, these challenges can be overcome for the betterment of the entire community.
Challenge #2 Community Buy-in and Involvement
This challenge is primarily affected by the continuing stigma and misunderstanding in the country. While the criminal justice system is touted as focusing on rehabilitation and reform, many individuals find it challenging to push for rehabilitation over punishment for criminal offenses, even if there is the potential of a mental health diagnosis. In states where the guilty but mentally ill verdict is available, the sentences imposed are often no different than those who are found guilty but sane of similar crimes primarily because juries find it hard to separate the crime from the person and their mental illness. This way of thinking doesn't just apply to individuals who have committed severe charges but also to the day-to-day minor offenses that occur in communities.
Many community members do not fully understand mental health's effects on an individual's ability to make decisions and function in a healthy capacity. They may struggle with the idea of an individual committing a crime and being placed under the mental health system's care rather than in the criminal justice system. To overcome this challenge, programs must educate the community and ensure that the community believes in what they are trying to achieve.
Challenge # 3 Learning to Work Together and Divide Tasks
It is essential to remember that co-responder teams are just that; they are teams. Each partner learns to rely on the other's expertise in relevant matters. Partners must learn to work together, respect each other's perspectives, and trust each other's judgment. The difference is that the team is an officer and clinician with varied professional experience and perceptions. This variation allows many problems to be solved more effectively once they learn to trust each other in the field. However, this presents new challenges as each team member looks at the problem differently.
This divide can cause some conflicts, and it is vital to address this challenge head-on by setting up teambuilding exercises and conflict management training. Additionally, this challenge can be addressed by having leadership and the co-responder teams sit down and set up standard policies and procedures to be followed in circumstances that can be planned for. This way, teams have plans to fall back on if they find themselves in a situation that has them at odds.
Opportunities Created by a Data-Driven Co-Responder Program
Just as Co-Responder Programs face challenges in developing, growing, and maintaining their programs, they also have incredible opportunities to serve their communities.
Opportunity #1 Greater Connection to the Community
Co-responder programs naturally create more connections in the community. When multiple groups are working together to meet the same goals, a relationship is an essential requirement and, at the same time, a fantastic opportunity.
This opportunity to connect often allows for services that had not been previously thought of because everyone was working on their goals independently and didn't realize the overlap that occurred. Additionally, more of the community can be connected when programs work together to reach the community with the same message.
Opportunity #2 Improved Efficiency in Utilization of Services
A typical opportunity created by the development of Co-Responder programs is the improvement in the utilization of emergency services by individuals with mental illness or substance use disorders. Because the initial emergency call leads to the immediate linking of mental health personnel to those in need, the crisis is more likely to be resolved without hospitals or other emergency services. The individual in crisis can be introduced to programs in the community to help maintain stability and that they can reach out to before another crisis occurs.
In many instances, co-responder teams can provide an alternative to what might otherwise be a low-level arrest and, as such, reduce the strain on the criminal justice system. Testimonials about the profound positive effects of Co-Responder Programs abound in any quick internet search.
What Tools Does a Data-Driven Co-Responder Program Need?
Co-responder programs often do not need a lot of different physical tools; the focus is more on recruiting behavioral health workers and officers who can work together and synergistically share their experiences. However, one crucial thing for this melding is to have a way to communicate and share information between branches of the program. A fantastic tool to help with this need is to use the Julota co-responder software platform.
Julota is a flexible, interoperable, and compliant cloud-based platform that enables communities to implement essential initiatives like Mental Health and Law Enforcement Co-Responders and Crisis Intervention Teams (CIT).
Julota enables communities to better address mental health, opioid, and substance abuse difficulties, as well as emergency super-utilizers and interventions while expanding the impact of limited community resources by connecting the right service with the right person at the right time. Additionally, it is entirely HIPAA-/mental health (42 CFR part 2)-/Criminal Justice Information System- compliant and can interface with any law enforcement CAD system.
The data sharing program Julota is a significant benefit to your community program becoming connected and data-driven. Co-responder programs have been shown to save communities money and officers time and provide the best services possible for individuals in crisis. With Julota, your Co-responder program can tremendously impact each individual served and your community as a whole.